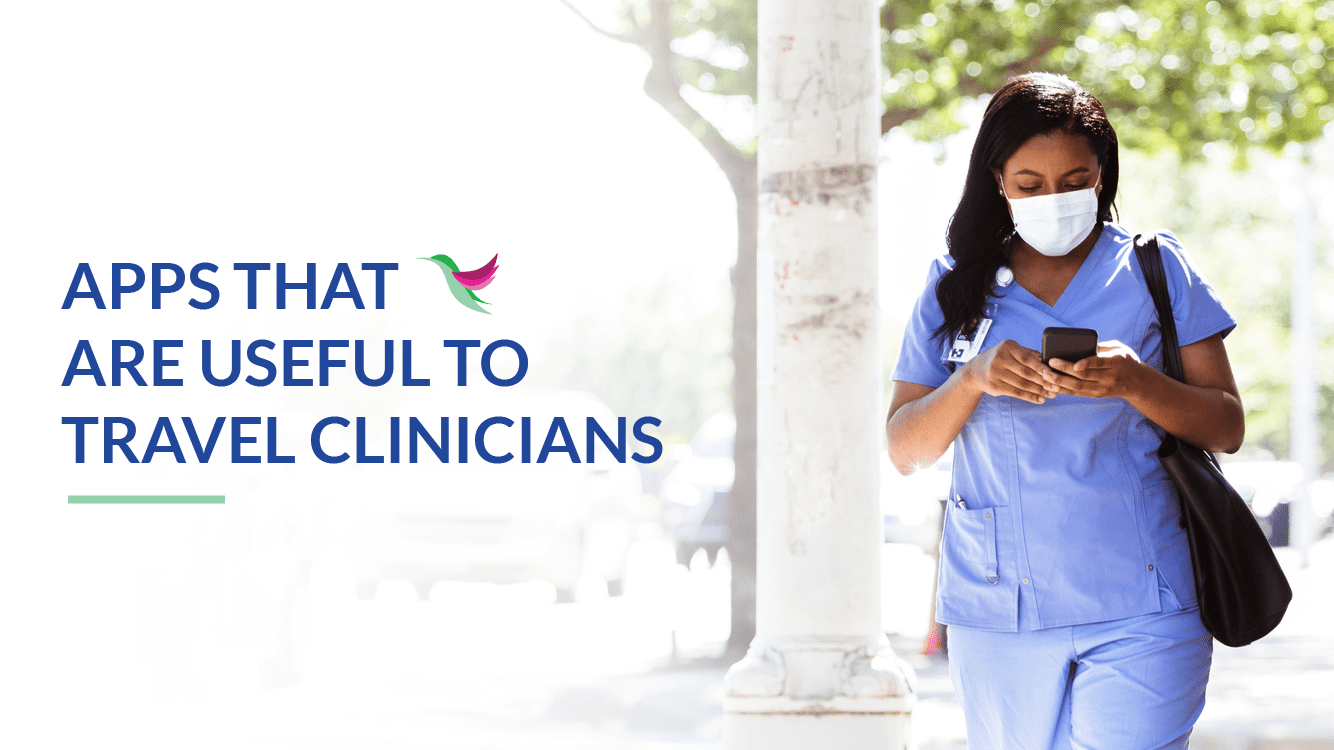 Travel clinicians are both avid travelers and healthcare professionals. The career has some very unique challenges as well. The great thing is that there are tons of apps to help travel clinicians save money, simplify their careers, and have fun. Here are a fews useful apps for healthcare professionals to consider.
1. GasBuddy
GasBuddy helps you find cheap gas based on your location. You can also search for cheap gas by city, zip, or postal code. If you see cheap gas, you can report it to GasBuddy and earn points. The app gives you a chance at winning $100 of gas every day. The more points you have, the greater your chances of winning!
2. Waze
Waze is robust. It bills itself as "the world's largest community-based traffic and navigation app." When the app is turned on, it tracks drivers so that it can provide real time traffic information. Users can also report wrecks and fender benders as well as police radar traps!
It provides directions with voice based navigation. The navigation system will even reroute you based on traffic issues. You can connect with Facebook, add friends and exchange ETA details. If you use the app to get to your destination, then it will remember where you parked so you won't lose your car! Oh, and you can also use it to find the cheapest gas on your route.
3. Best Parking
Simply put, Best Parking helps you find the cheapest and most convenient parking facilities in 105 cities and 115 airports in North America. They even offer a $5 Starbucks prize if you receive bad data from the app!
4. Road Trippers
Road Trippers bills itself as "the ultimate US travel companion" and "Maps Built For Travelers." They have a website and an app. It helps you find the best diners, attractions, hotels, scenic locations and more along your route and create an itinerary. You can sync the website to the app and save items for offline tracking which is great for dead zones on the road!
5. MeetUp
MeetUp is a service that lets members organize around similar interests. Members are able to create and join groups. They can then organize events and group members can RSVP and view a list of those who have RSVP'd. The website offers a more robust user interface, but the app has most of the same features.
This app can be useful for travel clinicians to find groups who share similar interests in their new locations. One of the cool things about MeetUp is that you get to meet with groups.
6. TripAdvisor
The TripAdvisor App also provides reviews of restaurants and other travel related businesses like hotels. Members are able to upload images and videos as well. It also has a "Discover near me" feature. TripAdvisor also allows you to compare airfares, shop for hotels, and make restaurant reservations. It also has a forum feature where you can pose questions for the community. You can also download maps, reviews and other items you have saved so that you can access the data offline. This feature is available for over 300 cities worldwide.
7. Happy Hour Finder
It does exactly what the name implies. The helps you find happy hours in your area. Remember, happy hours aren't just for drinking; there are typically deals for food too!
8. HappyCow
If you're a vegetarian or vegan, then you can use the HappyCow app to help you find restaurant options that will meet your needs!
9. Hipmunk
Hipmunk might be the best reviewed app of its kind. It lets you comparison shop for flights and hotels. However, it has some really cool additional features. It includes listings from Airbnb, HomeAway and VRBO. It's got a "Last Minute" booking feature for hotels that promises deep discounts. It's got a "Hotel Heat Map" that shows you how close the hotel is to shopping, dining and more. It's got a "Verified by Hipmunk" feature that conveniently lets you know if the hotel has free wi-fi and parking. You can even sort flights by "Agony" which lets you know which flights have the easiest path to your destination.
10. CamScanner
Of course, most of your documents will need to be transferred from paper to electronic if you want to store them in the cloud. CamScanner is the most popular app for accomplishing this. The app turns your phone's camera into a scanner.
You can conveniently select the file format you want to scan to, including PDF which is highly recommended for travel healthcare documents. Additionally, the app can be set to sync with all the major cloud storage services cited above. This way, when you scan a document, it can automatically be saved to the cloud service of your choice. The app also has optimization features so you can improve the quality and clarity of your scans. The app has many other features as well and there are both free and premium versions.
11. CudaSign
CudaSign, formerly SignNow, is free for signing up to five documents per month. It's also got a really nice user interface that makes working in the app a breeze. For travel healthcare companies, the app has a feature to signify with a button where signatures need to be placed. Watch out though, if you need to sign more than the 5 documents per month, then the premium plan is pretty expensive. It's $29 for one month or $180 for the year.
12. Moovit
Moovit was called the "Waze of public transit" by the Wall Street Journal. The app lets you review public transportation options and monitor real time arrivals in 60 major US cities. So if you're looking to simplify the cheapest possible transportation option, then this is a great choice.
13. Tripit
Tripit is pretty amazing. The app will create travel itineraries for you based on hotel, airline, car rental and restaurant emails that you receive from booking these services. If you use Gmail or Google Apps for booking these services, the app will update your itinerary automatically. If you don't, then you simply forward the confirmation emails from whatever email service you use to plans@tripit.com and the app takes are of the rest.
14. ShiftLife Organizer
ShiftLife is a calendar application designed for shift workers, like nurses and clinicians. You can organize your shifts, record your hours and even calculate your pay. It will sync with many other calendars if you prefer to have everything in one location.
15. Figure 1
Figure 1 bills itself as a community for medical professionals to securely share clinical cases and discuss treatment options. Anyone can contribute a case. The app has a library of rare and textbook cases which can be browsed or searched by annotation, category, anatomy and specialty. The app claims to be HIPPA compliant.
16. Medscape
Medscape might be the most robust app of its kind. The Drug Reference Tool lets you quickly look up medications and dosages. The Drug Interaction Tool lets you search for adverse drug combinations. The Disease and Condition Reference lets you find vital patient-care information. It has Medication Calculators, Image Collections and more. Moreover, it has robust medical news service so you can stay up to date with the latest on your field. It also lets you earn CME! It's all free.
17. Nursing Central
Nursing Central helps you find information on diseases, tests, drugs and procedures. It's "Grasp" features lets you search the Medline/PubMed database. The app is loved by many clinicians because it looks at things with a healthcare professional's perspective. The app is quite expensive though, $170 for the first year and $100 a year thereafter.
18. SkyScape Medical Library
SkyScape has a detailed set of free features and offers in-app purchases to add more. For free, it provides drug information including interactions. It also has over 400 integrated dosing calculators. It has a medical calculator with over 200 tools organized by specialty. It provides information on diseases, symptom related topics as well as news and information catered to your specialty.
SOURCE: https://blog.bluepipes.com/best-apps-for-travel-nurses/