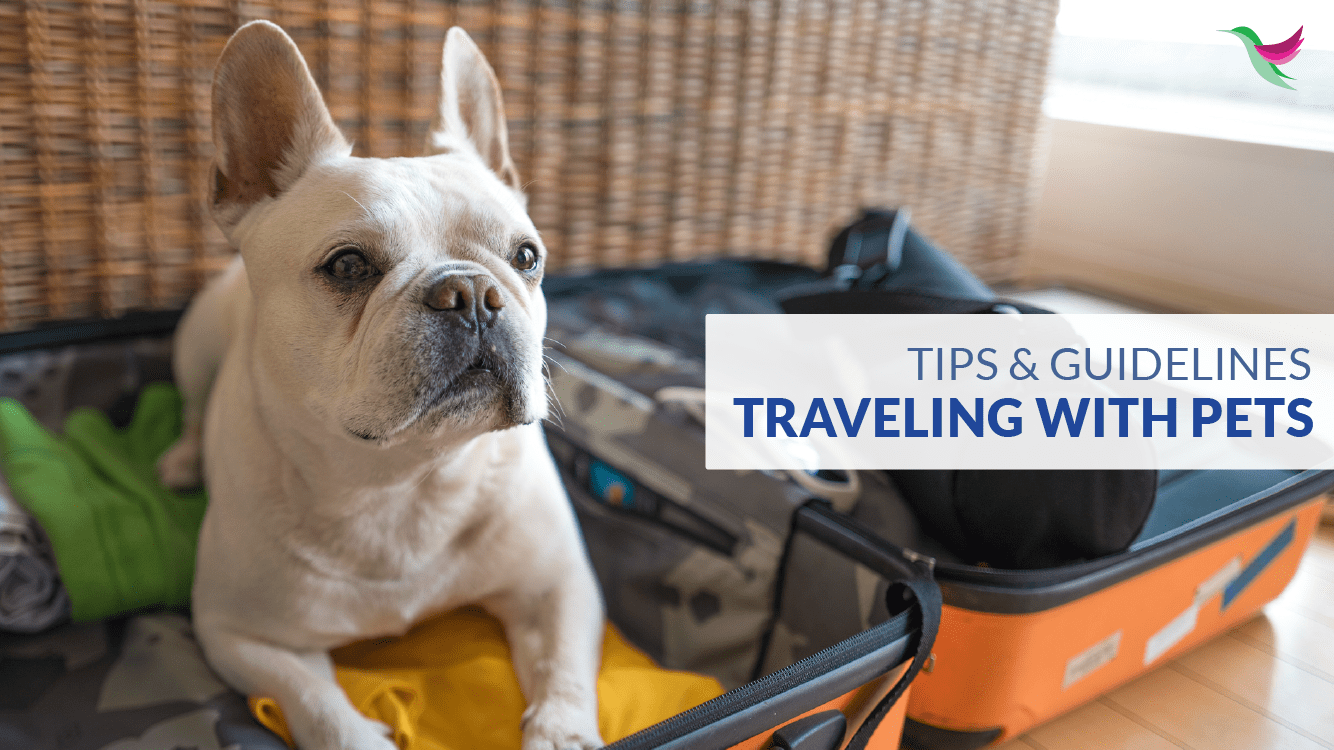 Did you know that when you travel for Medical Staffing Solutions, A TotalMed Company, you can bring your pets with you? The Humane Society of the United States has some great tips on traveling with pets!
If you are traveling by car…
Dogs should not roam in the car
The safest way for your dog to travel in the car is in a crate that has been anchored to the vehicle using a seat belt or other secure means. Dog restraints or seat belts are useful for preventing your dog from roaming around the car and being a distraction to the driver, but they haven't been reliably shown to protect dogs during a crash.
Most cats aren't comfortable traveling in cars, so for their safety as well as yours, keep them in a carrier. It's important to restrain these carriers in the car so that they don't bounce around and hurt your cat. Do this by securing a seat belt around the front of the carrier.
Leave the front seat for humans
Keep your pet in the back seat of the car. If an airbag deploys while your pet is in the passenger seat (even in a crate), it might injure your pet.
Dogs and cats should always be kept safely inside the car. Pets who are allowed to stick their heads out the window can be injured by particles of debris or made sick by having cold air forced into their lungs. Never transport a pet in the back of an open pickup truck.
Give your pet plenty of rest stops
Stop frequently to allow your pet to exercise and eliminate. But never permit your pet to leave the car without a 
collar
, ID tag and leash.
Whenever possible, share the driving and pet care-taking duties with a friend or family member. You'll be able to get food or use the facilities at rest stops knowing that someone you trust is keeping a close eye on your pets.
Don't ever leave your pet alone in the car
A quick pit stop may feel like no time at all to you, but it's too long to leave your pet alone in a car. Heat is a serious hazard: when it's 72 degrees Fahrenheit outside, the temperature inside your car can heat up to 116 degrees within an hour. On an 85-degree day, even with the windows slightly open, the temperature inside your car can reach 102 degrees in just 10 minutes. Even if you're certain of your timing, you can get held up — in just 30 minutes, you could return to a 120 degree car and a pet suffering irreversible organ damage or death.
If you are traveling by airplane…
Air travel can be risky for pets
We recommend that you weigh all the risks when deciding whether to transport your pet by airplane. Air travel can be particularly dangerous for animals with "pushed in" faces (the medical term is "brachycephalic"), such as bulldogs, pugs and Persian cats. Their short nasal passages leave them especially vulnerable to oxygen deprivation and heat stroke.
Consider all the alternatives to flying. If you plan to bring your pet on vacation, driving is usually a better option. If you can't travel by car, your pet will probably be healthier and happier if you leave them behind under the care of a pet sitter or boarding kennel. But there are times when that won't be possible and you'll have to determine whether the benefits of flying outweigh the risks.
If you decide to fly with your pet, choose the cabin when possible
If transporting your pet by air is the only option, find out whether they can travel in the cabin with you. Most airlines will allow you to take a cat or small dog in the cabin for an additional fee. But you must call the airline well in advance; there are limits to the number of animals allowed in the cabin. If you are transporting your dog, make sure they meet the size requirements. If you get overwhelmed by all the regulations, there are companies that can help you navigate through the process of flying with a pet.
If your pet is flying the cabin, ask these questions
When you contact the airline, be sure to get clear answers to these questions:
Will the airline allow you to take your cat or small dog in the cabin with you?
Does the airline have any special pet health and immunization requirements?
Does the airline require a specific type of carrier? Most airlines will accept either hard-sided carriers or soft-sided carriers (which may be more comfortable for your pet), but only certain brands of soft-sided carriers are acceptable to certain airlines.
If you can't take your pet in the cabin, does the airline have any restrictions on transporting your pet in the cargo hold?
Take precautions when bringing your pet through airport security
Your pet's carrier will have to pass through the security screening along with you. You have two options: Either be sure your pet is securely harnessed so you can safely contain them outside their carrier while it's being x-rayed, or request a special secondary screening that won't require you to take them out of their carrier.
Be aware of the dangers of flying your pet in a cargo hold
While most animals flown in the cargo area of airplanes are fine, you should be aware that some animals are killed, injured or lost on commercial flights each year. Excessively hot or cold temperatures, poor ventilation and rough handling are often to blame.
Most U.S. airlines are required to 
report all companion animal incidents
 that occur in the cargo hold, and consumers should study the performance record of any airline before choosing to fly your pet in a cargo hold.
If you are traveling by ship…
With the exception of assistance dogs, pets are welcome on only a few cruise lines—and usually on ocean crossings only. Some lines permit pets in private cabins, but most confine pets to kennels. Contact your cruise line in advance to find out its policies and which of its ships have kennel facilities. If you must use the ship's kennel, make sure it is protected from the elements and check on your pet frequently.
If you are traveling by train…
SOURCE: https://www.humanesociety.org/resources/travel-safely-your-pet-car-airplane-ship-or-train