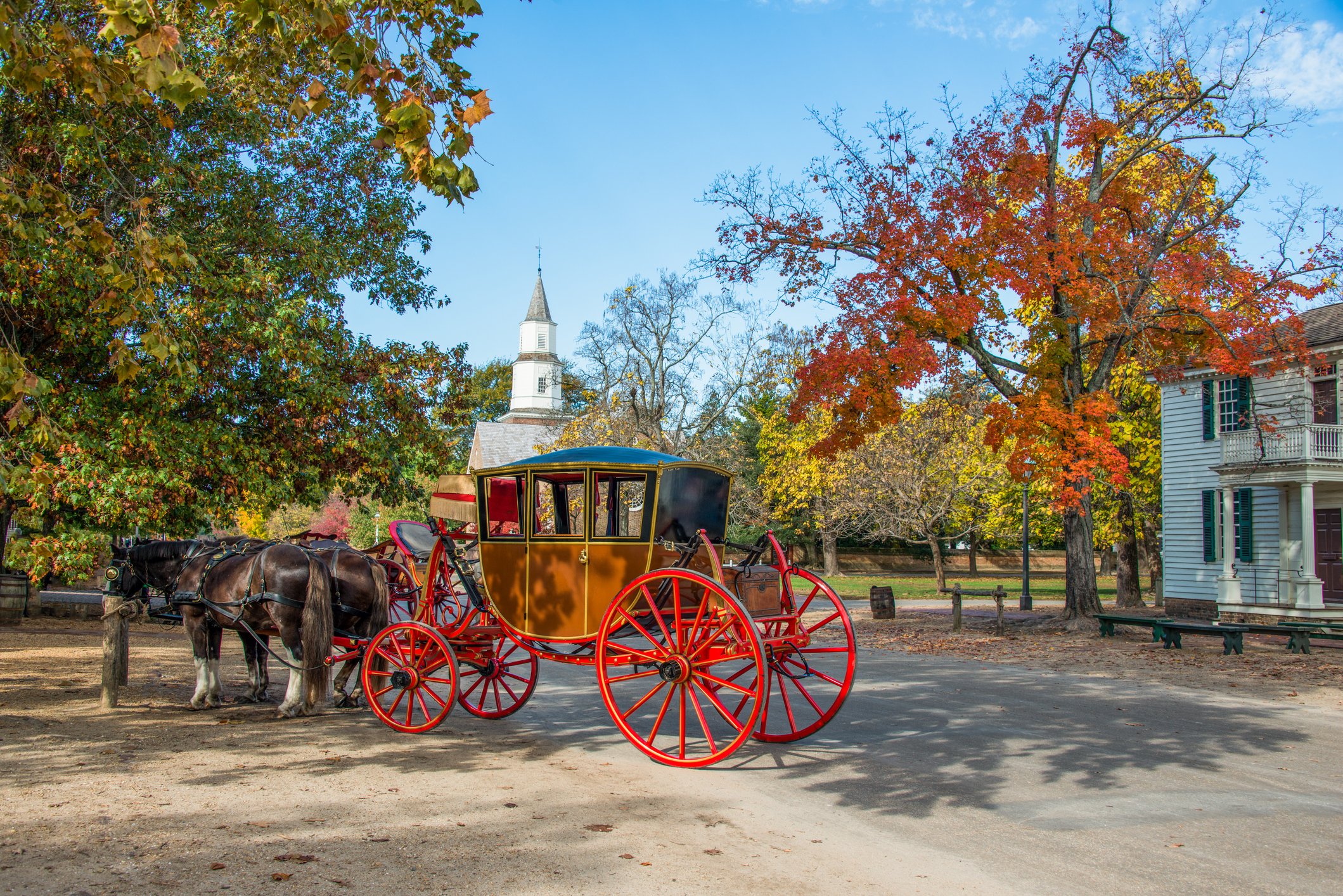 Did you know that Virginia is one of the most historical states in the US? 8 out of our 45 presidents were born here, more than any other state! It's not just the history that attracts so many people, though. Virginia is filled all kinds of beautiful nature, including several caves, national parks, and natural bridges! If you are a travel clinician looking for an assignment in a mesmerizing environment, Virginia is definitely the place you should go to next! Take a look at these hand-picked top attractions in the state of Virginia.
1. Colonel Williamsburg
Here at Colonel Williamsburg, you take a flashback in history to the American Revolution. Throughout that time, Williamsburg was the capital of Virginia. Several of the buildings are still open today. Stand where Patrick Henry gave his speech, or stroll along the same sidewalks as former president, Thomas Jefferson. You can even eat in the same place that first president, George Washington, once did.
Throughout the vicinity, you will see all kinds of costumed interpreters to make your experience more realistic. You are able to see re-enactments of what life was like for the people that lived during that time. You can also visit two folk and decorative art museums that are filled with authentically re-made colonial gardens.
2. Virginia Beach
This beach is known for its golden sand that spreads over 9,000 acres along the coastline, and is an extremely popular attraction to attend when visiting Virginia. Vast amenities along this beach include hotels, amusements, an aquarium, and a long boardwalk for viewing the beautiful Atlantic. You can also find all kinds of hiking trails and a visitor center within the area.
3. Shenandoah National Park and Skyline Drive
Shenandoah National Park and Skyline Drive lies in the heart of Virginia. This beautiful park helps protect areas of the Blue Ridge Mountains. These mountains stand between 2,000 & 4,000 feet tall! Along these mountains you can find the Skyline Drive, finding several hiking trails (which are the park's main attraction). There are all different kinds of spots you can stop and take in the beautiful nature. They say that the best time to visit is in October, as the fall colors make the view look astonishing!
4. Luray Caverns
Luray Caverns contain beautiful illustrations of calcite arrangements inside a broad underground framework that feels more like an outsider scene than a earthly normal point of interest. Guests are able to visit the caves and appreciate the limestone crystals, which have over the centuries shaped a noteworthy scene. You can also see Titania's Veil; the Double Column; insides lakes, which amplify the caves; and the Incredible Stalacpipe Organ, which makes music, utilizing the stalactites themselves.
Beyond the caves, guests can visit The Luray Valley Museum, which explores the history of the Shenandoah Valley all through a 7 acre 19th-century town. This town is packed full of authentic and reproduction buildings and artifacts. The Car & Carriage Caravan Museum showcases vehicles from the 1800s, featuring a 1897 Mercedes Benz.
5. Chincoteague and Assateague Islands
Assateague and Chincoteague are long, beautiful islands that lie outside of the Virginia coast. Assateague is actually considered as a wildlife sanctuary, which is highly protected. The southern area of Chincoteague is protected as well, expanding out to 14,000 acres. These two islands consist of breathtaking shorelines, fresh AND saltwater marshes, wetlands, and plenty of forests for over 320 breeds of birds and waterfowl!
Within the two islands, you can also admire the most celebrated natives, the wild ponies! Alongside the wild stallions, you have the opportunity to swim and walk nature trails, take wildlife tours, go kayaking or fishing, and collect sea shells. No wonder these islands receive around 1.5 million tourists every single year!
6. Natural Bridge of Virginia
The Natural Bridge of Virginia stands over 215 tall with a span of 90 feet, and is one of America's most historic attractions and is listed on the National Register of Historic Places. Amid the 18th and 19th centuries, it was one of the most popular places for European guests. Legend has it that first president George Washington studied the bridge for Lord Fairfax, when a rock with his initials and a survey mark was found in 1927. Third President, Thomas Jefferson, actually took ownership of the land for a period of time. Built on those lands is a log cabin that Jefferson used as a retreat.
The Natural Bridge became a state park starting in 2014. You can walk along the Cedar Creek Trail from Cascade falls, explore beneath the bridge and to Lace Falls, visiting the Monacans exhibit and the saltpeter mine along the way. Want to go further? Not to far away is the natural bridge cavers, where you have the opportunity to explore 34 stories underground to view the Colossal Arch room, Reflect Lake, and the stalactites and stalagmites! The Natural Bridge Zoo is known for its observation of breeding endangered and rare species, plus you can interact with a few of the creatures!
7. Virginia Aquarium & Marine Science Center
The Virginia Aquarium and Marine Science Center gives a large variety of shows and interactions for the whole family, and is one of the most famous family attractions within Virginia Beach. Some Aquarium animals include several types of turtles, water-dwelling reptiles like Komodo dragons and tomistoma, sharks, and harbor seals and otters. The center also provides an assortment of interactive shows and activities for all ages, as well as a six-story theater, which has customary showings of 3-D nature movies.
8. Busch Gardens
Busch Gardens is the perfect place to let loose and have fun. The enthusiastic amusement park is filled with themed rides, rollercoasters, and entertainment with a European feel. The amazing culture brings out southern Germany in its amusement with dirndl-costumed dancers and a classic Bavarian band. To get some peace and quiet, they have an attraction where you can watch Border Collies herd sheep like they do in Scotland.
9. Richmond
Richmond is filled with reminders of our great history of the American Revolution, including the State Capitol, which was built by third president Thomas Jefferson in 1785, the James River-Kanawha Canal, the Church Hill Historic Area, and the the 1737 Old Stone House (Edgar Allan Poe Museum), which is the oldest building in Richmond.
10. Steven F. Udvar-Hazy Center
The Steven F. Udvar-Hazy Center is home to various artifacts and aircraft, which come from the Smithsonian's National Air and Space Museum in Washington, D.C. Most people come to see the Space Shuttle Discovery, which is the shining star of the space science exhibits. The Steven F. Udvar-Hazy Center stores tons of aircraft, including modern commercial aircraft, US and foreign military vehicles from WWII, and military craft and technology from the Vietnam, Korean, and Cold War. The Steven F. Udvar-Hazy Center has all kinds of interactions and demonstrations, which include the Discovery Stations, the IMAX theater, and flight simulator.
SOURCE: https://www.planetware.com/tourist-attractions/virginia-usva.htm