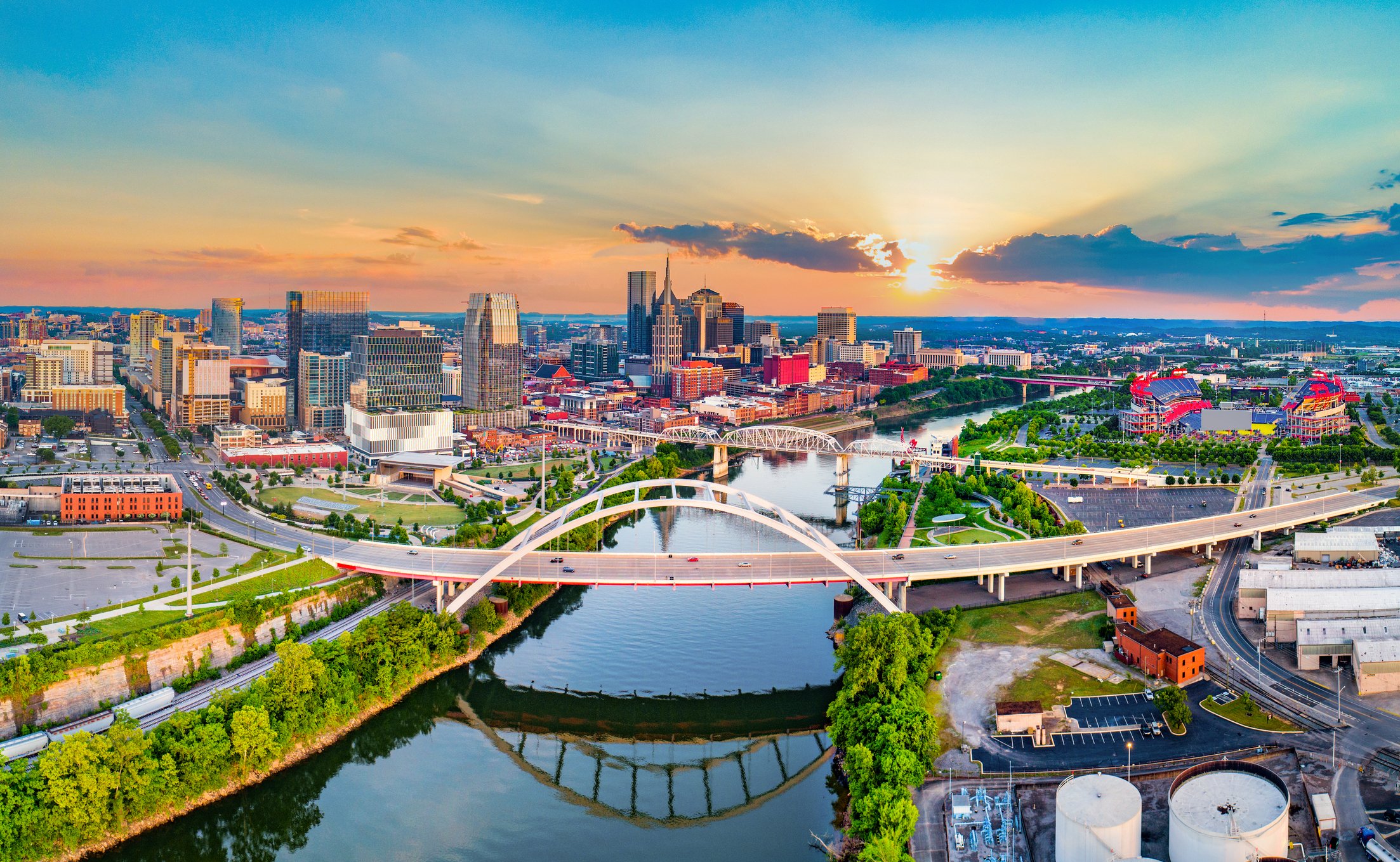 Tennessee is known to be one of the most beautiful places in the United States, filled with mountains, fresh-water lakes, and tons of tourist attractions for many to enjoy! If you are a travel clinician looking to start a travel assignment in a place surrounded by beauty and entertainment, Tennessee is 100% the place for you! Check out these 10 amazing attractions to visit the next time you take an assignment in Tennessee.
1. Great Smoky Mountains National Park
Known as one of the best attractions in Tennessee, the Great Smoky Mountains National Park is literally the definition of beauty. The park lies between the Blue Ridge Mountains and the Great Smoky Mountains, being the most popular national park to visit! While exploring, you will be able to see tons of historical landmarks, geological marvels, and tons of wildlife in their natural habitat! Take a relaxing walk through the Appalachian Trail, or hike through the Alum Cave Trail, witnessing all kinds of beautiful cave structures and ponds.
2. National Civil Rights Museum
If you are a history fan, check out the National Civil Rights Museum. This museum is one of the most educational and historical spots in Tennessee. Built in 1991, the National Civil Rights Museum tells a story about the Civil Rights Movement of America. There are several artifacts and exhibits that you can visit to learn about the history, legacy, and the continued influence on the fight for equality today. The museum is made up of multiple individual buildings, also filled with tons of history regarding the Civil Rights Movement of America. Take a two-hour tour around the museum or rent out the museum for your next event!
3. Lookout Mountain
Slightly overlapping the Georgia state line, Lookout Mountain is said to be named after the term in the Cherokee language for a pair of mountains that faced each other. Surprisingly, Lookout Mountain was the site of the last battle of the Cherokees. With the beautiful scenery and a touch of history, Lookout Mountain is known to be as one of the best tourist attractions in the state. Visit while events are being held, like Fat Man's Squeeze or Lover's Leap.
4. Country Music Hall of Fame & Museum
One thing that is best known about Tennessee is the southern culture and country music. Visit the Country Music Hall of Fame and Museum if you love the genre of country music and everything that goes with it! Step inside the history of country music culture, with exhibits, photos, videos, and artifacts of your favorite country singers. There are tons of exhibits for several country music celebrities like Zac Brown Band, Taylor Swift, and Charlie Daniels.
5. Beale Street
Being one of the most famous streets in Tennessee, Beale Street is located in Memphis, and is about 2 miles long, nourished with restaurants and bars that are drowned with the wonderful tunes of blues and soul music. Beale Street also played a large role in America's blues music history, and still continues to utilize it today. You can visit outdoor concerts and festivals to really get in the groove of the soul spirit!
6. Tennessee Aquarium
Located in Chattanooga, the Tennessee Aquarium is a nonprofit, fun-filled aquarium with tons of exhibits to enjoy. The River Journey exhibit is the most popular, covering over 130,000 square feet. It's the biggest freshwater aquarium in the world! Another great exhibit is the Ocean Journey, devoted to sea animals and salt-water fish. While enjoying these exhibits, you can also go on a boat ride, get to know about all of the aquatic animals in the building, and learn about our world's ecosystem. If you are a fan of marine life, this is the place to go!
7. Memphis Zoo
If you are looking for a scene with animals, animals, and more animals, the Memphis Zoo is sure to be your next stop! All animal exhibits are replicated after their real-life habitats. The Memphis Zoo is one of the four zoos in the US to have a giant panda exhibit! This zoo also used to be the home of the longest-living hippopotamus of its kind, Adonis, who lived to be 54. Come see and learn about the 500+ species of animals here, with more than 3,500 animals total!
8. Ripley's Aquarium of the Smokies
The Ripley's Aquarium of the Smokies is also another great attraction for marine-life lovers. This aquarium holds over 100,000 sea life with over 1.5 million gallons of water, so you can image this is a big place with a lot to see! Visit the breathtaking underground tunnel, showing a phenomenal view of the stingrays, sharks, and other sea life that live at the aquarium.
9. Parrot Mountains & Gardens
Parrot Mountains and Gardens was created by native artist Thomas Kincade. When walking in, you can admire free-roaming parrots that live in a beautiful European, Amazon style facility. Tons of interactions are provided with these friendly birds, such as photographs and feedings. This Tennessee-hidden gem also facilitates a baby bird nursery, where you can adopt your own bird!
10. Dollywood
Tennessee country music legend Dolly Parton has her very own amusement park, and it's too amazing to pass up. Dollywood has tons of attractions like a typical theme park, but with a southern twist. Visit Dollywood's sister attraction, Splash Country, during the summer for the same fun!
SOURCE: https://www.busytourist.com/best-things-to-do-in-tennessee/