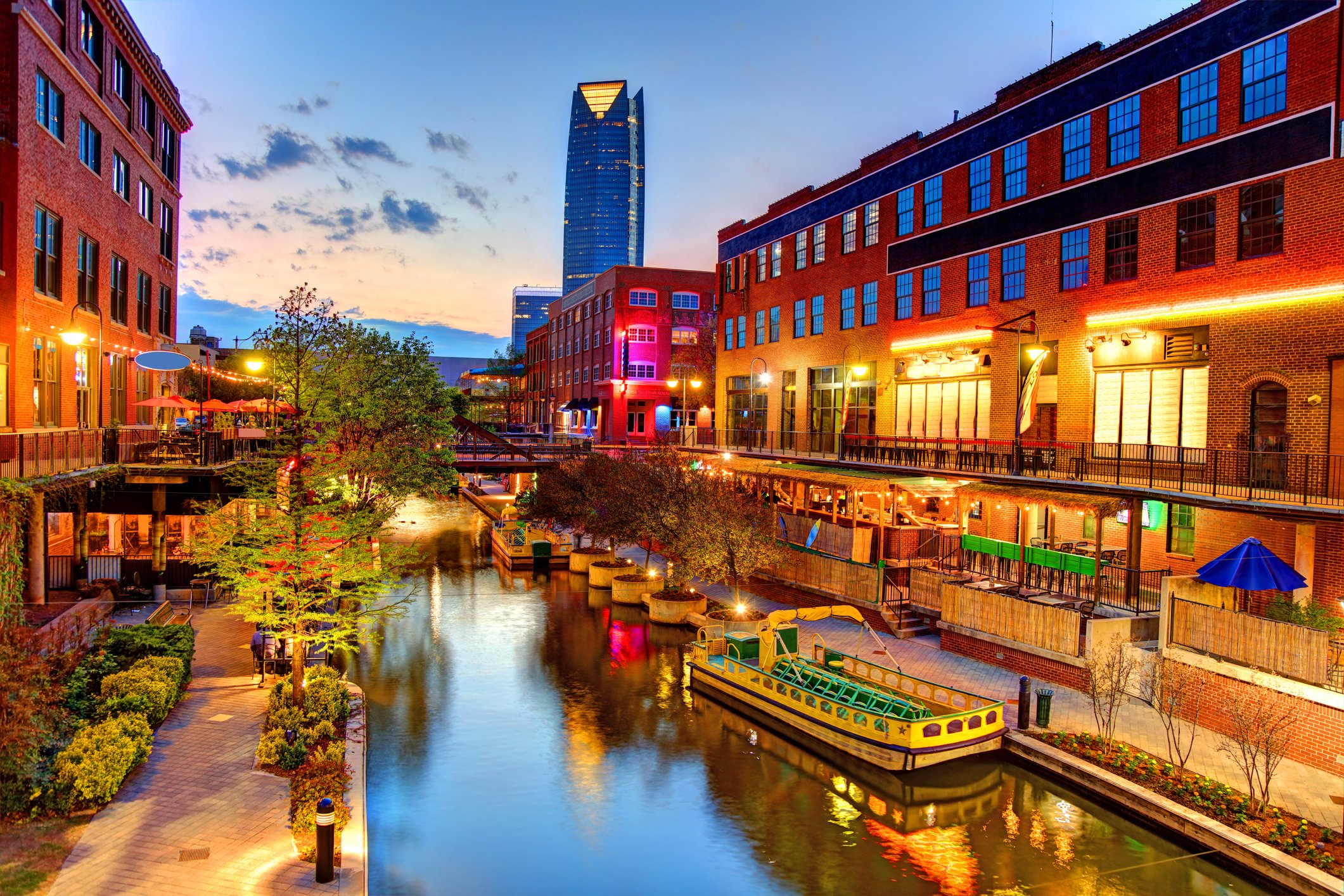 Want to travel somewhere new? Oklahoma is a great option for you, with plenty of tourist attractions to keep you occupied on your off-days! Whether you're interested in history, looking for a relaxing place to stay, or wanting to soak up some nature, you'll find it in Oklahoma's many engaging tourist attractions. Whatever you choose, you're sure to enjoy Oklahoma. Check out these 10 hand-picked attractions just for you to visit while on assignment!
1. Oklahoma City Zoo
The Oklahoma City Zoo and Botanical Garden has been open for the past century, and is filled with over 500 different species of animals, including rhinos, gorillas, lions, and tigers. This family-friendly park encompasses impressive displays of greenery from around the world. Kids and adults can enjoy a variety of experiences, such as lorikeet and giraffe feedings, sea lion shows, elephant demonstrations, a walk-through wallaby enclosure, and a stingray touch tank.
2. Oklahoma City National Memorial
The Oklahoma City National Memorial is an outdoor tribute center to the victims, survivors, rescuers, and others affected by the 1995 Oklahoma City bombing. Visitors can walk through a field of empty chairs and the reflecting pool to commemorate those who were involved.
3. Oklahoma History Center
Displaying a wide variety of unique exhibits covering the history of the state, The Oklahoma History Center is a hub for archival and research materials, covering everything from Native American history, pioneer life, and cowboys to the Crossroads of Commerce and even Oklahomans and Space. The Oklahoma History Center also gives you the option to explore the botanical gardens, and stroll among beautiful sculptures and native plants on the Red River Journey, a quarter-mile walking tour that conjures the diverse terrain of Oklahoma's Red River Valley.
4. Museum of Osteology
This attraction can be a bit strange to the average tourist, but boy, this place is filled with some historical gems! At the Museum of Osteology, you can find the skeletons of hundreds of animals that roamed throughout the US. You can see the makings of animals of all sizes, from snakes and apes to penguins and kangaroos. Take a selfie under the giraffe skeleton, or capture a picture of a sloth skeleton hanging from a tree. There is even a treasure hunt kids can participate in to dig up some interesting finds!
5. Myriad Botanical Gardens
Myriad Botanical Gardens is the best attraction to relax and enjoy the great nature of Oklahoma. You can find flowerbeds and horticultural displays, covering over 14 acres near the downtown center. Other activities at this amazing garden is a children's playground, bubbling fountains, and jogging/walking paths. There is even a leash-free dog park to give your fur babies a great play-date. Dine at the garden restaurant and patio, or go ice-skating at the Devon Ice Rink in the winter. Whatever you decide to do, you will be sure to enjoy it here at the Myriad Botanical Gardens!
6. Oklahoma City Museum of Art
The Oklahoma City Museum of Art focuses on 19th & 20th-century European/American art. You can tour and experience the bright art-glass work of one of Seattle's artists, Dale Chihuly. Other artists include luminaries like Pierre-Auguste Renoir, Georgia O'Keeffe, and Henry Moore.
7. Oklahoma Science Museum
The Science Museum Oklahoma is packed full with all kinds of interactions and activities. You can find an array of science-themed topics intended to engage, entertain, and educate. Although children are the main audience of this museum, any person of any age can learn and explore here. Visit the tornado simulator, build with giant Legos, invent and test your own creations, walk a tightrope, and even learn to ride a Segway.
8. Bricktown
These brick warehouses were previously abandoned, but are now converted into unique shops, restaurants, entertainment venues, and other entertaining attractions. You can also visit one of the provided sporting venues to watch the upcoming basketball game or just sit down, have a drink, and enjoy the ambiance. Narrated cruises and dinner cruises along the canal are other popular things to do here.
9. Overholser Mansion
Overholser Mansion was built by Henry Overholser, the founder of Oklahoma City. Here he built the first grand home ever, being a three-story mansion featuring French-stained glass, fine oak paneling, and French chateau-style structure. There has been rumors of the Overholser Mansion being haunted… If you are brave enough, take a visit and find out yourself!
10. 45th Infantry Division Museum
If you are into history, specifically military history, The 45th Infantry Division Museum in Oklahoma City is the first place you should visit. Located in the Lincoln Park Armory, you can see multiple exhibits at the museum including uniforms and firearms. If you go outside, you can take a tour of the dozens of military vehicles that expand out to 15 acres.
SOURCE: https://www.planetware.com/tourist-attractions-/oklahoma-city-us-ok-okc.htm