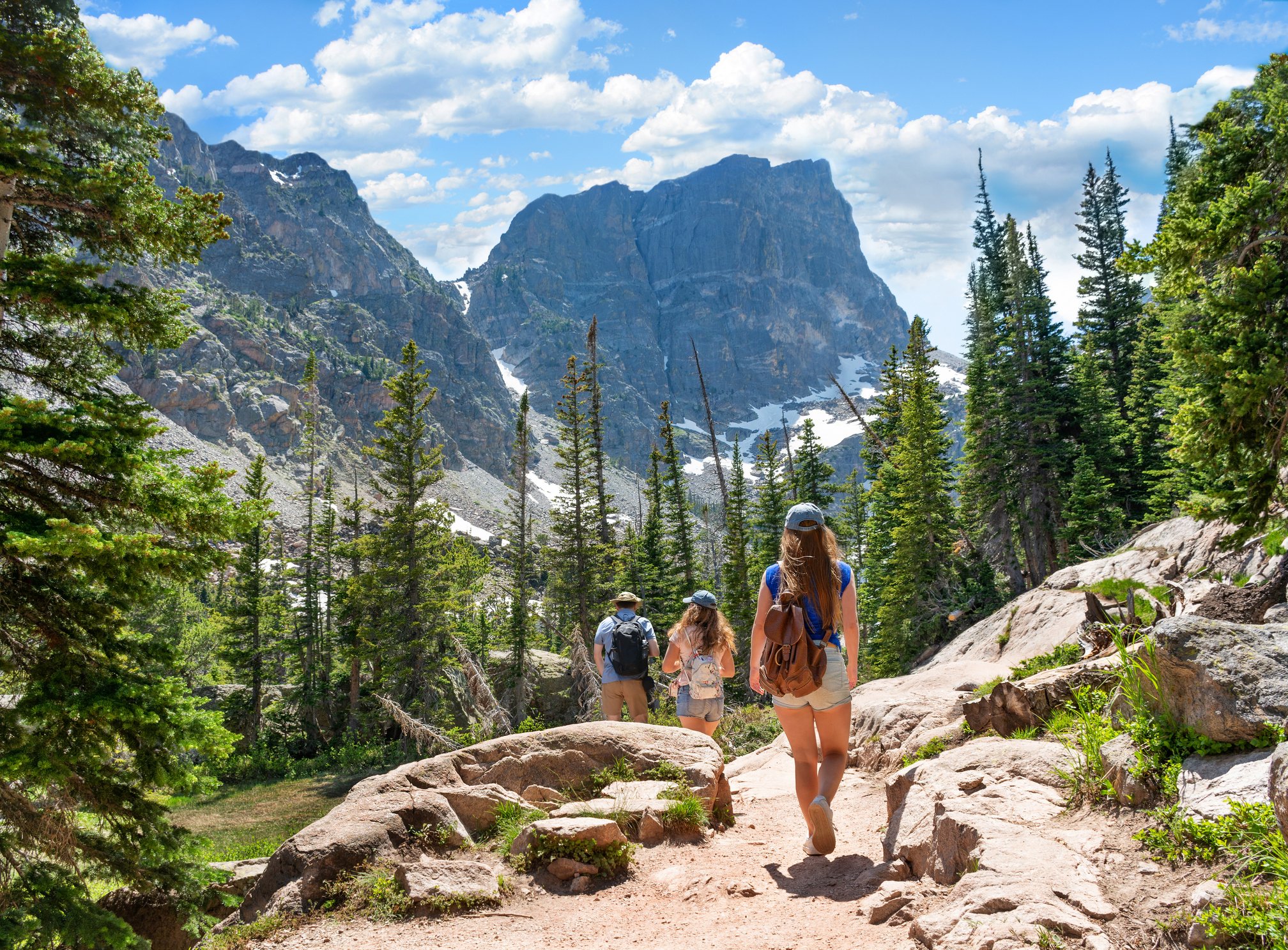 Colorado's mix of attractions is as diverse as its terrain of mountains, prairies, and red rock formations. Whether it's the call of the majestic Rocky Mountains, historic monuments, or one of several cultural establishments, Colorado will have something to offer any travel clinician's interests. Take a look at these 10 tourist attractions the next time you are on assignment in Colorado!
1. Denver Art Museum
The Denver Art Museum is well-known for a world-class permanent collection, including its large exhibit on American Indian art. The DAM also brings in plenty of special exhibits throughout the year. The Hamilton building, which houses the museum's contemporary art collection, is a work of art in itself.
2. Rocky Mountain National Park
Rocky Mountain National Park, outside of Estes Park, is a mountain oasis with breathtaking scenery and plenty of activities. Visitors to the park can explore by taking a scenic drive on the famous Trail Ridge Road or other passageways, or by foot on one of the many hiking trails. Other activities available year-round include camping, biking, water-sports, and horseback riding. There's also plenty of opportunities for wildlife viewing of the park's plentiful populations of elk, moose, bighorn sheep, bear and mountain lions.
3. Hanging Lake
Everybody hikes in Colorado, and one of the beloved hiking spots is Hanging Lake. The Hanging Lake Trail is located off Interstate 70, just 10-miles east of the town of Glenwood Springs. The trail itself is short, just a little over a mile, but it can be a tough hike because it's steep and rocky. The end result is so worth it! Hanging Lake is a unique geological feature and also a hanging garden plant community unlike anything you've seen before.
4. Argo Gold Mine and Mill
Argo Gold Mine and Mill located in Idaho Springs provides a tour experience for the whole family about the history of the Argo tunnel and Mill, which processed over one million dollars worth of gold ore after its completion in 1893! It also provides insight into the history of the gold rush in Colorado. Visitors not only get to tour the mine and museum, they can try their hand at panning for gold!
5. Red Rocks Park and Amphitheatre
Red Rocks Park and Amphitheatre provides a unique natural landscape and live music all rolled into one. The park is centered around the incredible red rock formations for which it gets its name, and out of which the world famous amphitheatre was built. Visitors can walk around the stage, plus explore trails throughout the park. The venue also offers a world-class lineup of musicians during concert season through late-spring to fall, as well as a Film on the Rocks program.
6. Denver Museum of Nature and Science
The Denver Museum of Nature and Science has been Denver's leading cultural institution for over 100 years. Located in City Park, visitors will enjoy a variety of exhibits on everything from natural history and the universe, to biology, and even Colorado history. The museum also has an IMAX theater, a planetarium, and host of exciting temporary exhibits annually.
7. Pearl Street Mall
No visit to the city of Boulder is complete without a stroll down Pearl Street Mall, the delightful pedestrian promenade that also serves as Boulder's heart for dining, shopping, and the arts! You'll find more than 1,000 businesses fill this area between 9th street and 21st street, most being locally-owned and operated. While you take in the shops and some of Boulder's best restaurants, be sure to enjoy the many street performers who are usually out and about showing off their skills.
8. Cheyenne Mountain Zoo
While its Denver counterpart might be more popular, The Cheyenne Mountain Zoo in Colorado Springs is definitely the most unique Colorado zoo experience you'll find. It is located at 6,800-feet above sea level and holds exhibits that are built into the side of a mountain. Visitors can also feed the giraffes, ride an open chair-lift over the zoo, walk through an aviary of free-flying birds, and expect plenty of animal encounters.
9. Mesa Verde National Park
Mesa Verde National Park, southwest near Cortez, is perhaps the greatest archaeological wonder in the United States and a UNESCO World Heritage Site! Learn about the lives and history of the Ancestral Pueblo people as you visit Cliff Palace, Balcony House and Long House, incredible cliff dwellings and mesa-top villages built between 450 and 1300. There's also a few hiking trails available within the park, including one to a petroglyph panel.
10. Dinosaur National Monument
Dinosaur National Monument, on the northern border between Colorado and Utah, is an incredible testament to the natural and geological history of Colorado. Visitors can see over 1,500 fossils on display on the cliff face inside the Quarry Exhibit Hall. There are also petroglyphs of lost cultures and the abandoned homesteads of early settlers. For the adventurers, there are camping and whitewater rafting opportunities.
SOURCE: https://theculturetrip.com/north-america/usa/colorado/articles/20-must-visit-attractions-in-colorado/