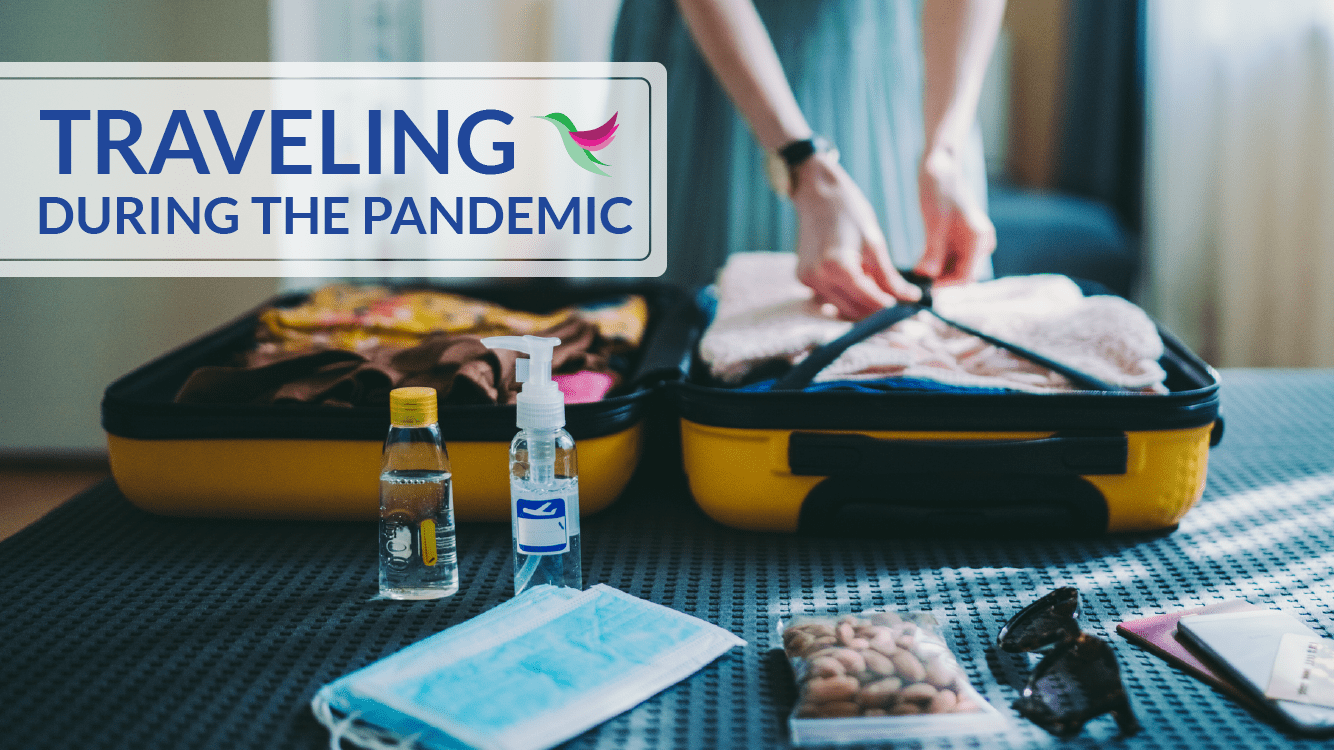 We are almost finished with the year, and COVID-19 is still at an all-time high. Masks are required nationwide, sanitizing stations are now placed at every corner. But what does this mean for travelers? While vaccines and other procedures are being discussed, it leaves the rest of us wondering how we can go about our daily lives, which can include travel. Medical Staffing Solutions, A TotalMed Company has provided you with some hand-picked tips and guidelines for traveling during the Pandemic!
1. Protect Yourself
Stay up-to-date on the CDC's COVID-19 guidelines; make sure you wear a mask at all times and make sure you always have hand sanitizer handy. As indicated by the International Air Transport Association, the danger of catching the virus on a plane is equivalent to catching it at the movie theater, train, or bus. They additionally proceed to state that the dangers may even be marginally less because of the air filtration system onboard.
If you have to travel, always pack a first aid kit. Include any and all medications that can help subside any minor inconveniences. On the off chance that you can oversee anything minor yourself, it will spare you setting off to a clinic where you can have the chance of catching another individual's illness.
2. Disinfect Your Space
Regardless if you are going on an airplane, train, or bus, bring a pack of disinfectant wipes. Wipe your tray table, seats, arm rests, and other surfaces you regard suitable. Be sure to clean the area well- you never know who sat there before you.
3. Minimize Contact with Crew and Passengers
If you are with family, make sure to book tickets that are in the same row, so you all can sit together and avoid contact with strangers. If you have to visit the restroom, bring your wipes and hand sanitizer with you. The goal here is to do your business without having to touch several surfaces. Use your wipes to lock the door, lift the lid, flush, and turn on water to wash your hands. We definitely advise to use hand sanitizer even after washing your hands.
Be careful with contact of the flight attendants, as they may be more exposed to COVID than the average person traveling. If you are too nervous to be in contact with the crew members, bringing your own drinks and snacks will help avoid a few encounters with them.
4. Protect Others
Kindly remember that this is about the well-being of everyone, not just you. In the event that you've had COVID, or flu-like symptoms, let others know when necessary and keep yourself isolated. Traveling with others could put them at risk. For example, you could be on an airplane sitting next to an individual who is immunocompromised. If you find yourself actively sick with the virus, you should avoid traveling at all costs and isolate right away.
5. When At Destination
When you arrive at your destination, we recommend finding a place to stay that is self-secluded, like an AirBnb. Staying at hotels and resorts with lots of people will increase the chance for exposure to the virus, as several of the amenities and facilities are shared.
Try to avoid public transportation by walking or renting a bike to get to your destination if possible. You could rent a car rather than using taxis or Ubers to get from place to place.
5. Travel Insurance
Travel insurance is a MUST if you plan to travel during this pandemic. Be careful though, sometimes your insurer does not refund cancellations, regardless of the new health guidelines dedicated to COVID. Trust Pilot is a great tool to use to check insurance reviews of people that have put in claims. A policy can look great with lots of cover but unfortunately 'cheap' policy insurers will always look for loop holes rather than giving you a payout.
SOURCE: https://travelmadmum.com/traveling-during-the-coronavirus-epidemic/