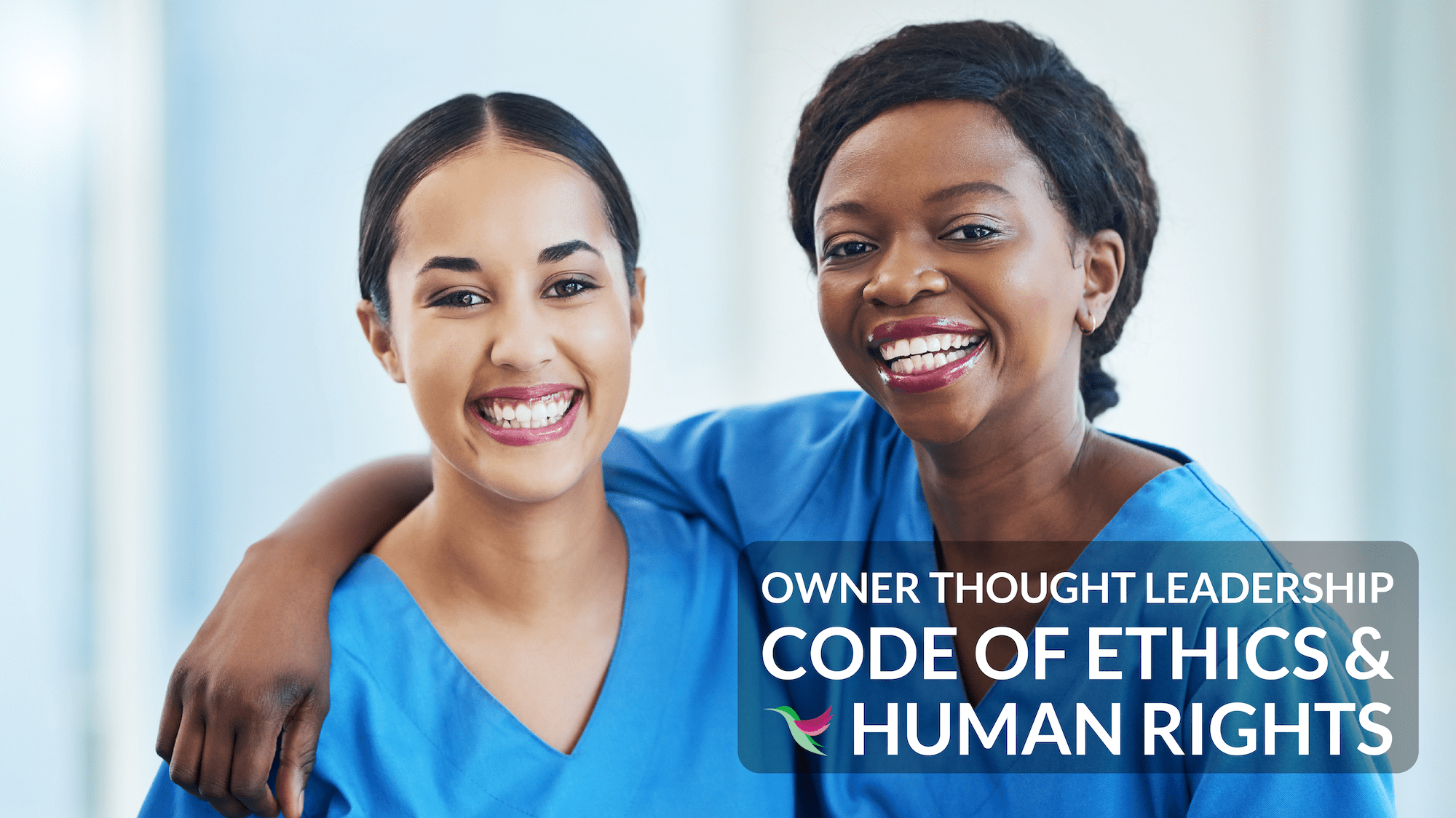 The American Nurses Association (ANA) Center for Ethics and Human Rights
The American Nurses Association (ANA) Center for Ethics and Human Rights was established to help nurses navigate ethical and value conflicts, and life and death decisions, many of which are common to everyday practice. The Center develops policy designed to address issues in ethics and human rights at the state, national, and international levels. Through its highly visible information, activities, and programs, the Center promotes the ethical competence and human rights sensitivity of nurses in all practice settings and demonstrates ANA's abiding commitment to human rights. The American Nurse Association Management team has provided MSS, LLC with tips on addressing the complex ethical and human rights issues confronting nurses.
The Code
The Code of Ethics for Nurses with Interpretive Statements, or "The Code", is a vital tool for nurses now and in the future. While the foundational values of nursing do not change, The Code is regularly updated to reflect changes in health care structure, financing, and delivery. It supports nurses in providing consistently respectful, humane, and dignified care. These values are often second nature to nurses' caregiving but are frequently challenged by the failings in U.S. health care and by negative social determinants of health.
The Code, consisting of nine provisions and their accompanying interpretive statements:
Provides a succinct statement of the ethical values, obligations, and duties of every individual who enters the nursing profession;
Serves as the profession's nonnegotiable ethical standard; and
Expresses nurses' own understanding of our commitment to society.
The Code is particularly valuable in today's healthcare environment because it clearly and eloquently reiterates the fundamental values and commitments of the nurse (Provisions 1–3), identifies the boundaries of duty and loyalty (Provisions 4–6), and describes the duties of the nurse that extend beyond individual patient encounters (Provisions 7–9).
To serve as the most useful aid in challenging situations, The Code's interpretive statements provide specific guidance for practice. The statements respond to the contemporary context of nursing and recognize the larger scope of nursing's concern for societal health.
The Code of Ethics for Nurses with Interpretive Statements is the social contract that nurses have with the U.S. public. It exemplifies our profession's promise to provide and advocate for safe, quality care for all patients and communities. It binds nurses to support each other so that all nurses can fulfill their ethical and professional obligations. This Code is a reflection of the proud ethical heritage of nursing; one which will continue on, whatever challenges the modern health care system presents.
Social Justice
When nurses vow to protect the health and safety of patients, that promise does not end at the bedside. While social justice is a logical extension of the nursing profession, it can be difficult for nurses to navigate these divisive areas and ensure every individual receives timely and high-quality care.
Moral Courage, Moral Distress, Moral Resilience
Nurses practicing in today's health care environment face increasingly complex ethical dilemmas. Upholding our commitment to patients and communities requires significant moral courage and resilience. It involves the willingness to speak out, whether alone or collectively, to do what is right for patients and other nurses.
End of Life Issues
In an aging population with rapidly increasing technological interventions possible, end of life care is a vital discussion. With multiple perspectives to consider, these resources serve to convey the breadth of opinion that nurses experience, and help nurses respect individual dignity and autonomy.
Hospice  is a model of care for people who are at the end of life. Specifically, hospice care is eligible for people who are estimated to have a prognosis of six months or less. Hospice is tremendously underutilized, with about 50% of patients having a length of stay of less than 18 days, as opposed to the approximately 180 days of the hospice benefit. Misperceptions about hospice are common. A common misunderstanding is that hospice is a place ("She's going to hospice"), rather than a model of care. Greater than 90% of hospice care occurs in patients' homes.
Caregiving Resources
Nurses frequently come into contact with caregivers and can provide vital support to individuals who may not come into regular contact with others due to the often all-consuming nature of providing care. It is important for caregivers to realize that they are not alone and that there's a wealth of information and resources to improve their situation.
National Association for Home Care & Hospice (NAHC) 
NAHC is the voice of home care and hospice. NAHC represents the nation's 33,000 home care and hospice providers, along with the more than two million nurses, therapists, and aides they employ.
Caregiver Action Network (CAN) 
Education, peer support, and resources for family caregivers. CAN serves a broad spectrum of family caregivers ranging from the parents of children with special needs, to the families and friends of wounded soldiers; from a young couple dealing with a diagnosis of MS, to adult children caring for parents with Alzheimer's disease.
Bioethics
While the consequences of Bioethics may not be felt by every single nurse, it is vital they are aware of the enormous implications of these issues, in case of crisis. From Ebola to natural disasters, through keeping aware of the very latest threats, nurses can protect patients and themselves in the face of any obstacles.
https://www.nursingworld.org/practice-policy/nursing-excellence/ethics/