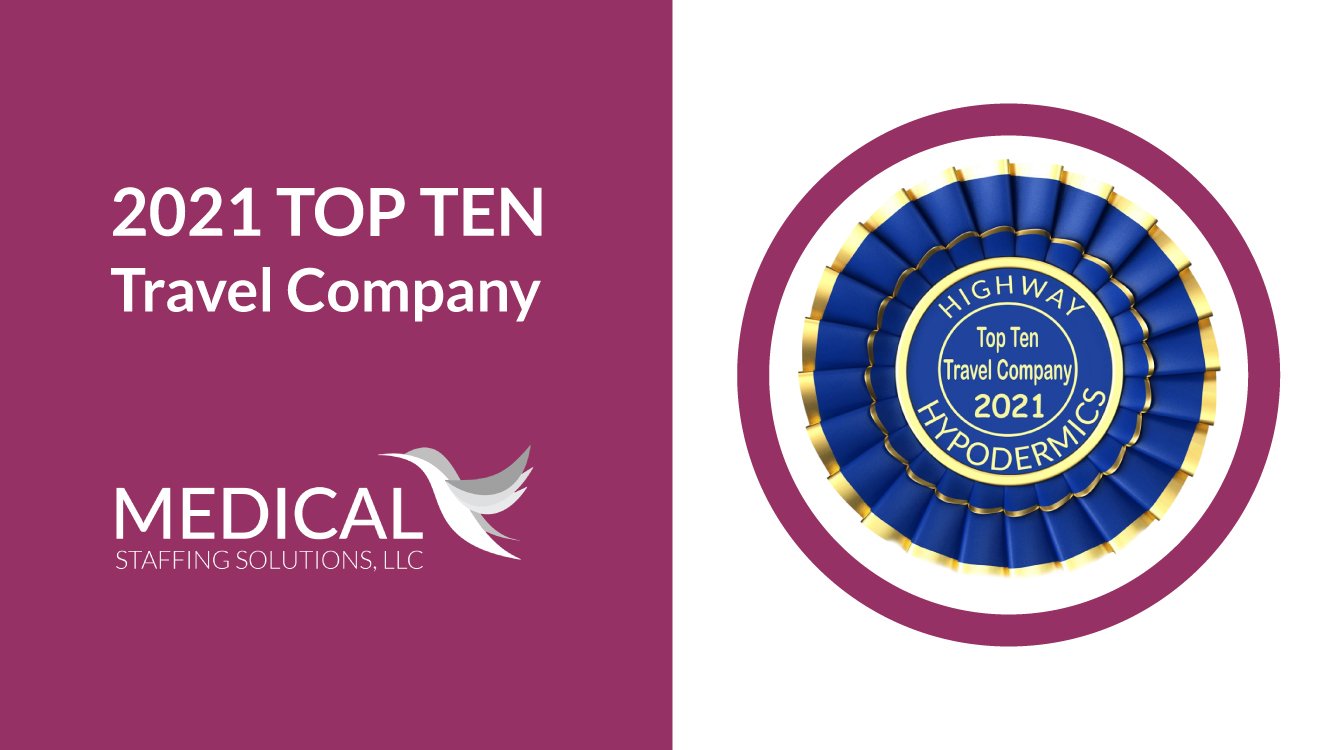 January 26, 2021. Medical Staffing Solutions announced Top Ten Status with Highway Hypodermics 2021 Top Ten Travel Companies Award
Maintaining a top 10 travel company status is not an easy feat, and companies nominated are compared based on actual travel staff reviews and information submitted by the recruiting agency. There are three requirements to be a Top Ten Company:
Have to have at least 20 company evaluations.
Must have an updated list of your benefits.
Must have an updated company profile.
Highway Hypodermics takes pride in their list and they check email validity and track IP addresses to ensure the highest level of integrity.
"MSS has been a nurse-owned company for 20 years and this influence creates respect for our healthcare workers and the job that they do. Our office employees are reminded that healthcare is an important and demanding job so they are encouraged to go the extra mile for our nurses and allied staff. Being a temp brings even more challenges at times, so we do our best to accommodate them whenever possible." – Joan Reneer, COO
"5 consecutive years being voted a top 10 company with Highway Hypodermics is a true testament for our internal staff. Medical staffing solutions LLC recruiters and all internal staff genuinely care about the nurses we place. Thank you to each and every nurse who took the time to review the travel companies and helped as secure the #4 spot this year. We are truly honored!" – Melanie Theriac, CEO
About Medical Staffing Solutions
Medical Staffing Solutions specializes in recruiting and placing healthcare professionals in travel, PRN, and permanent positions across the country in Nursing and Allied Health. Throughout 2020, the organization filled roles at even the most short-staffed facilities during the most challenging time in healthcare. By matching the right travel healthcare professional with the right organization, Medical Staffing Solutions continues to offer a lifeline to facilities and their patients.
Medical Staffing Solutions is a top ten, travel nursing and healthcare staffing agency with the mission of igniting purpose in healthcare. The organization staffs nurses, therapists, pharmacists, and other clinicians of all specialties in all 50 states. They offer local and travel jobs and match caregivers with the right organization to assist both facilities and patients. As an organization, they focus on putting highly-skilled staff into facilities to ensure adequate staffing for a better patient experience.
To learn more about how MSS can help with your medical staffing needs, visit mssmedicalstaffing.com