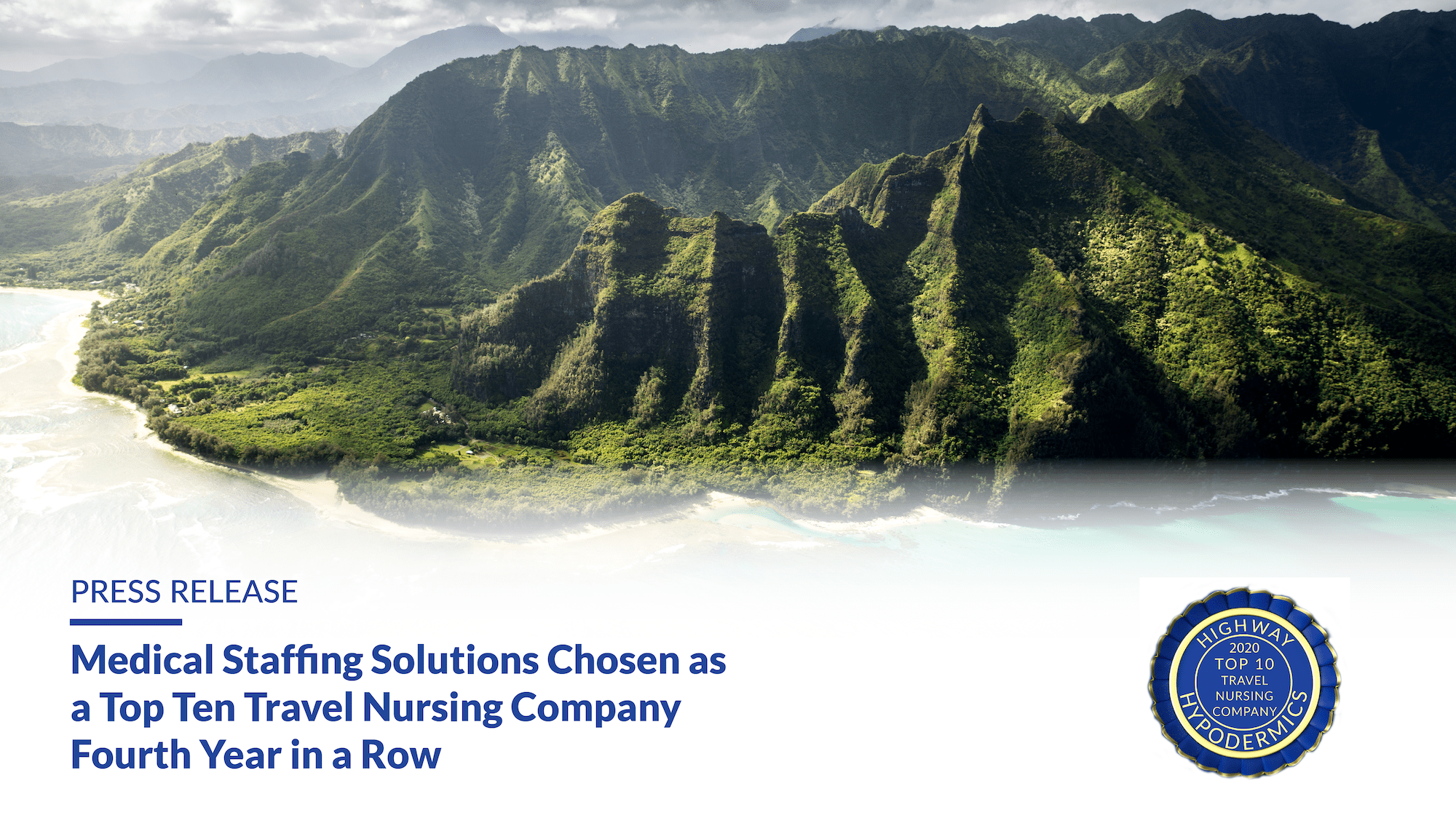 Medical Staffing Solutions, A TotalMed Company, Named Top 10 Travel Nursing Agency 4 Years in a Row
It is with great pleasure that we announce our Top Ten Status with Highway Hypodermics for the fourth consecutive year. Medical Staffing Solutions (MSS), LLC is committed to excellence and we couldn't have done it without the compassion and service of our travel healthcare professionals. We thank you and are thrilled to be on the top 10 list once again!
Maintaining a top 10 travel company status, is not an easy feat and one that we, at MSS, take very seriously. Companies nominated were compared based on actual traveler reviews and information submitted by the recruiting agency. There are three requirements to be a Top Ten Company:
1) Have to have at least 20 company evaluations.
2) Must have an updated list of your benefits.
3) Must have an updated company profile.
Highway Hypodermics takes pride in this list; they check email validity and track IP addresses to ensure the highest level of integrity.
"In the eighteen years of nurturing this business, we worked really hard to make it a business that takes care of its employees on assignment.  They need the support of an agency that can look out for them from all aspects – clinically, logistically and financially.  Our Top Ten status gives me the assurance that my company is doing just that.   As the majority of our management team are nurses themselves, we can offer clinical support better than our competitors." Joan Reneer, Co-Founder & COO
"Having the honor of being nominated as a Highway Hypodermics top ten company four consecutive years is the ultimate goal of any healthcare staffing company. Being voted on by travel healthcare professionals is the biggest compliment you can get." Melanie Theriac, Co-Founder & CEO
Founded in 2001, MSS is women-nurse owned & operated. We specialize in recruiting and placing healthcare professionals in travel, PRN, and permanent positions across the country in Nursing and Allied Health. We set incredibly high standards in support because we've been in your shoes. By letting MSS focus on the details of your assignment, you can focus on what's important: putting your patients first. Our team of healthcare professionals are available 24/7 to offer guidance whenever and wherever you need it.
Our clinicians are true healthcare heroes because they have the skills and flexibility to fill roles at even the most short-staffed facilities. By matching the right travel healthcare professional with the right organization, MSS offers a lifeline to not only the facility but to the patient as well. Our highly skilled staff and an adequately staffed facility equals better patient experiences.
Our partners work with us because we deliver the right talent to the right position. Join us today to find your purpose and be the healthcare hero in your field of specialty!
"WITH BRAVE WINGS, WE FLY…"
Contact Medical Staffing Solutions, A TotalMed Company, at (812) 469-6877 or visit our website at https://mssmedicalstaffing.com.