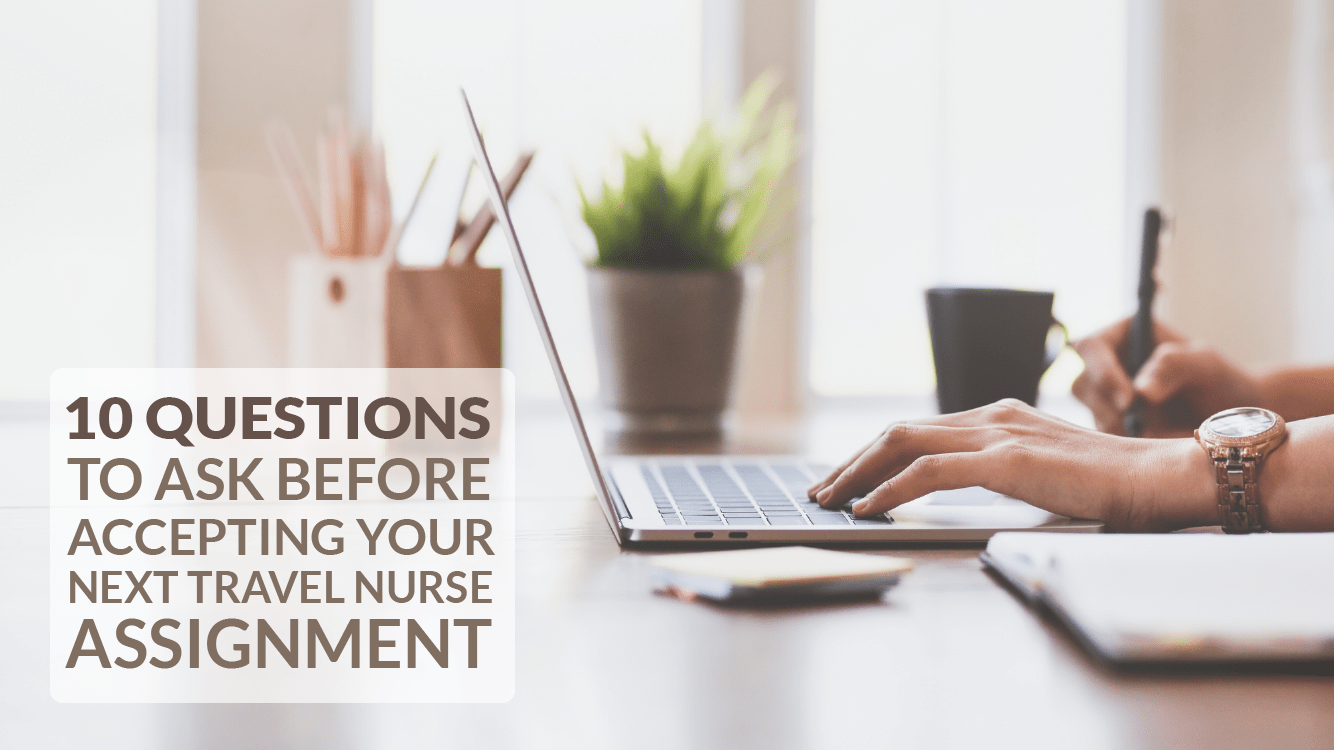 Travel clinicians may feel overwhelmed with questions about their travel assignments. While some level of uncertainty is normal with any new job, there are a few key questions that new and seasoned travel nurses alike should have answered before accepting a travel nursing assignment. Joelle Chandler, manager of recruitment with American Mobile Healthcare, suggests several questions to ask during the interview with the nurse manager and some to address with your travel nurse recruiter.
1. What are your expectations for travel nurses?
This is a great open-ended question to get the nurse manager to open up, to give you an idea of how he or she works and to promote good communication. Different managers will have different expectations about how charting is to be done or how a traveler should address questions or problems he or she encounters.
2. What is your floating policy?
All travelers are expected to float between units to some extent. But the idea of floating can make some clinicians nervous. Asking up front about floating expectations can alleviate that concern. Travel clinicians can expect to be floated only to units where they have experience. For instance, an ICU nurse may be asked to staff a step-down unit.
3. How do you do your scheduling?
While you may not get to pick specific shifts, you can certainly get an idea if you can cluster your shifts together or if the assignment will be primarily day or night shifts.  Also, as the holidays approach, it will be important to ask about holiday scheduling. Just like staff nurses, travelers are expected to work some, but not all, holidays.
4. What kind of orientation is offered to travelers?
Orientations can vary from one day to a few weeks, so this is an excellent question. Most commonly, orientations are three to four days. It is also important to ask about the orientation schedule–is orientation only offered during day shifts or is there a nighttime orientation, as well? These orientations can help travelers learn how the hospital works and where to go for answers.  Some also include short-term mentoring or the chance to shadow a staff nurse before taking over patient care.
5. How many travelers are on the unit?
This may be an especially important question for first-time clinicians. Travelers often form their own communities, so it is nice to know whether or not there is a group waiting for you. While staff clinicians are usually welcoming, many are already busy with family and friends. Other travelers are more likely to be available to socialize after work or to go on adventures during days off.
6. Do you ever extend contracts for your travelers?
You will want to know if there is a possibility of staying on if you find your experience especially enjoyable. Thirteen weeks can pass quickly, and it is helpful to know from the outset if an extension is even an option from the hospital's perspective.
7. How many hours will I work, and will my hours be guaranteed? 
It's important for clinicians to understand the details of each travel assignment, including how issues like hours are treated. Not many hospitals offer guaranteed hours. Just like in a permanent position, you might get called up or called off due to a flux in the census. Your recruiter will be able to look up which hospitals are guaranteeing hours.
8. How far away is my housing and what does it include? 
Your recruiter should be able answer any of your housing related questions. Most travel nurse agencies, including us here at MSS & TotalMed, aim to keep housing as close as possible- usually within a 30-minute commute of the hospital, however, each city will have different options. Furnished housing includes all major furniture items such as tables, seating, lighting and beds. Travelers need to bring their own cooking supplies, electronics, and linens, except in locations where it is difficult to bring a car- such as Hawaii, Alaska, and New York City.
9. What will be required on my first day?
Your recruiter will receive your instructions for the first day regarding when and where to show up. He or she may also be able to find out other specifics, such as the availability and cost of parking, and whether or not specific colors of scrubs are required–or your recruiter can direct you to the right person(s) to get these answers. You will also be told what documentation you'll need to bring with you on the first day, and agency staff will help verify licensing and other issues before your start date.
10. What resources are available if I encounter an issue on the job?
While recruiters and housing specialists can help answer some general questions on your travel assignment, many top travel nurse agencies, like us, also offer clinical liaisons who are available around the clock if a clinical or work-related issue needs resolving.  Be sure and ask your recruiter for details!
SOURCE: https://www.travelnursing.com/news/career-development/10-questions-ask-before-your-next-travel-assignment/